Fascias / soffits / rain water systems
general information : replacement fascias, soffits and guttering systems.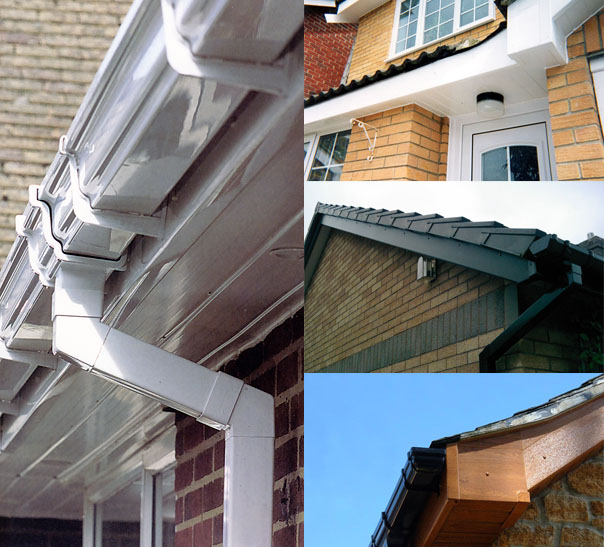 Rainwater systems compliment the look and functionality of your new systems. Badly designed rainwater systems can devastate your home. Water ingress can damage roof systems as well as walls and foundations. So it pays dividends to do the job right the first time. Our Rainwater systems are available in half round, square and ogee profiles, giving you the choice of look to suit your home.
Soffits and fascia boards are a maintenance free solution to standard wooden installations. Our systems compliment our window and door designs to fit in seamlessly with the rest of the exterior of your home.
M&G FASCIAS / RAIN WATER SYSTEMS
We provide and fit the best quality external plastics to compliment your windows, doors, and conservatory, with maintenance free rainwater systems and complementary plastics.
Our UPVC systems make the exterior of your home totally maintenance free and have a consistent look all year round without the need for periodical painting or staining.We only fit products with quality assurance and manufacturers colorfast guarantees, giving you peace of mind when ordering from M&G.
Phasellus odio risus, faucibus et viverra vitae, eleifend ac purus. Praesent mattis, enim quis hendrerit porttitor, sapien tortor viverra magna, sit amet rhoncus nisl lacus nec arcu. Suspendisse laoreet metus ut metus imperdiet interdum aliquam justo tincidunt. Mauris dolor urna, fringilla vel malesuada ac, dignissim eu mi. Praesent mollis massa ac nulla pretium pretium. Maecenas tortor mauris, consectetur pellentesque dapibus eget, tincidunt vitae arcu. Vestibulum purus augue, tincidunt sit amet iaculis id, porta eu purus.