Guardian warm conservatory roof
The guardian roof is the perfect replacement if your conservatory is to warm in the summer and to cold in the winter.
M&G Windows, Guardian Conservatory roof - Anglesey
View the brochure - click here.
The Guardian Conservatory Roof - Anglesey
A conservatory is a great investment in your home and will be enjoyed all year round. If you are looking to add value to your home then the Guardian Conservatory Roof is the perfect addition. The Guardian roof allows you to have an extension to your living space that you can use all year round. Externally the Guardian Conservatory Roof is aesthetically superior to its conventional rival, insofar as its tiles and cappings are streamlined and unobtrusive. Not relying on bulky portal frames, concrete or brick columns, its lightweight facet provides for more options in relation to window and door selection.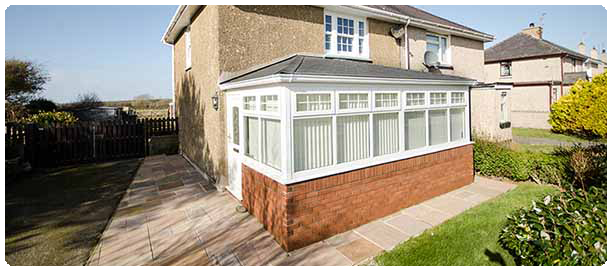 Soffits and fascia boards are a maintenance free solution to standard wooden installations. Our systems compliment our window and door designs to fit in seamlessly with the rest of the exterior of your home.

Key Features
Superior conservatory roof
Great investment
Year round use
Warm in winter
Cool in summer
Increases property value
Hugely attractive
Available nationwide
Save on energy bills
Your choice of finishes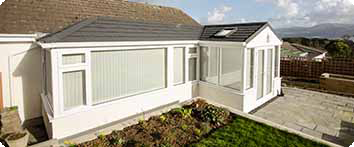 A Guardian Conservatory Roof can save you money on your energy bills, with a value of only 0.18, it is less than half of the requirement your home roof should meet. It is currently the ONLY LABC type approved roof available on the market.
Why Guardian Warm Roofs? The Guardian Warm Roof is a revolutionary step forward in home improvement. Unsurprisingly then, there are many compelling reasons to choose the Guardian Warm Roof System. A key aspect is the impressive thermal qualities: The Guardian insulated Roof transforms the conservatory into an ambient, much needed space that can be used daily, ALL year round: nice and cool in the hot summer months and cosy and warm throughout the harsh winter thus making the Guardian solid roof a serious contender for market leader. Then there's the appearance: unquestionably, no other solid roof system comes close to matching the aesthetics of the Guardian Roof System. Add to this the straightforward installation process and it's easy to see why the Guardian Warm Roof System is so popular both with tradesmen and home owners alike. The Guardian Roof is perfect for either replacing an existing roof or installing a roof on a new build project. Constructed from patented innovative profiles and tested to the highest UK standards, the Guardian Roof has become the benchmark for conservatory roofs.