BATHROOM PANELLING | DECORATIVE PANELLING
general information : Bathroom and Decorative panelling systems.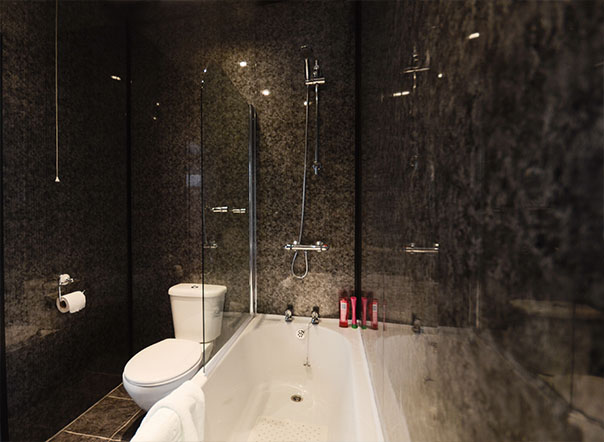 The decorative panel range combines a traditional finish with a modern, sleek slant to the product. These marble effect PVC panels will transform any wall to which they are applied, and the 100% waterproof finish means they are a popular choice for bathrooms and kitchens. They are easy to fit, and easy to maintain with a simple rub down usually removing any dirt to leave a clean, crisp finish. This PVC cladding is 8mm thick so will also add insulation to your room.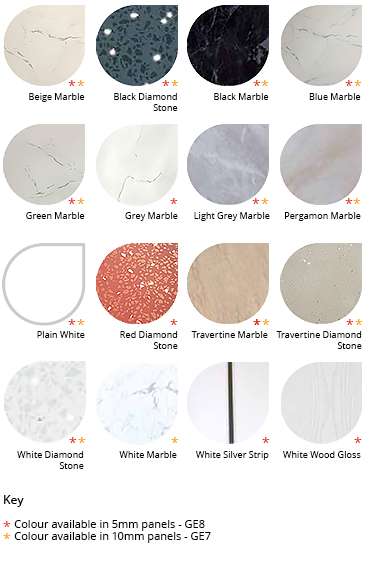 Up to 2700mm Length x 250mm Width x 8mm Thick
Quick & easy to install
Clean, hygenic and easy to maintain
Water resistant
Helps to insulate your room
No messy grouting required
Will NOT support mould or bacterial growth
The Standard Geo-panel interior decorative panelling range is 250mm wide, 2.7m high and is suitable for a wide range of applications including ceilings, walls and showers. It comes in 10 beautiful designs and colours including white gloss, white/silver 2-strip, diamond black stone, diamond white stone, black marble, pergamon marble, light grey marble, pastel grey marble, black wood and white wood. Standard Geo-panel comes with a complete range of finishing trims in white and silver to ensure a neat and professional installation.